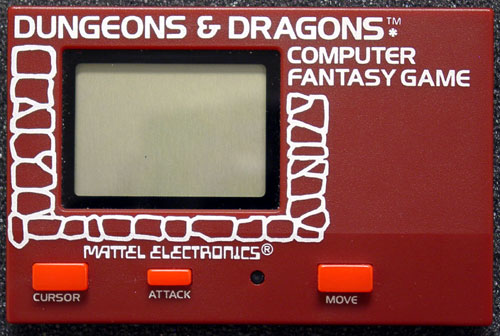 Pictured is my favorite portable game of all time. It's really bad, but I've had it since I was like five and it's one of my personal treasures. Fortunately, mobile gaming has come a long way over the past thirty years. I've got something like 85 games on my iPhone now including Street Fighter and Resident Evil 4, and if that's not THE FUTURE, then I don't know what is. I love IOS games, and I think mobile gaming is a great venue for bite-sized games with interesting concepts and unique gameplay despite the overwhelming proliferation of "me too" games. Come, won't you join me as I take a look at some of my recent App Store gaming finds?

Speedball 2
Back when I was in high school in the early 1990s, I had a computer science class where we learned ancient languages like FORTRAN and COBOL. Every Friday, we had game day so we could play old timey games in glorious four-color CGA on the PCs. Somehow, the computer lab had a copy of the Bitmap Brothers' crazy sci-fi sports game Speedball 2. I loved that game, and when I saw that a new version (subtitled "Evolution") was available for iDevices, I jumped. Well, not really, I saw that it was $2.99 and waited a couple of days and then it went on sale for 99 cents.
It's a great version of the classic game. Controls kind of suck, but that's the case with most IOS games. At least you can choose between a digital stick and tilt. The fun, soccer meets handball meets pinball gameplay is intact, with cyborg-manned teams such as Brutal Deluxe and the Raw Messiahs beating the crap out of each other to try to throw a ball into a goal. There are also points scoring opportunities such as bumpers, light-up targets on the walls, and a multiplier ramp. And you can always knock a player out for points as well. Matches are short, quick, and brutal- perfect for mobile gaming. There's plenty of content too, with a career mode, challenges, quick matches, and multiplayer options.
I'm really enjoying the game all over again. It's definitely old fashioned, flawed, and sometimes frustrating but the nostalgia and simple fun of the game carries the day. It runs great on my quickly antiquating iPhone 3G. The game also gets bonus points for its loading screen- it plays a sample of that familiar groaning, grinding sound that old disk drives used to make.
Tiny Wings
This is the game that bumped Angry Birds off its perch as the #1 downloaded IOS game, and it's an ultra-casual game about a flightless bird "haunted by the night" (the game's words) attempting to take wing while traversing the hills and valleys of a chain of islands. Like many of the App Store's best games, it has a couple of key elements that spell out "success"- immediately graspable concept, simple one-touch controls, and charming visuals. It's also addictive as hell.
The bird has two states. Touching the screen causes him to tuck and become heavier, which is what you want to do on the downhill slopes With a finger off the screen, it flaps its titular tiny wings and if you time it just right coming off an ascent, he'll catch some (or a lot) of air and speed up. Timing a tuck on the downward trajectory at the right time will result in a smooth transition and bonus points. Hit three perfect landings and "fever mode" is triggered, which is not only a fun mechanic but it's also a license to print money when it comes to these kinds of games. There are also coins to collect and clouds to touch for extra points.
It's cute, it's fun, and it fits the platform perfectly. I don't think it'll reach the iconic status of Angry Birds, but with some updates and extra content I think it's got some legs. Or wings, as it were.
League of Evil
Some folks have billed this retro-styled 2D platformer as Super Meat Boy for IOS. As far as the small level, achievement-based design is concerned, it's a pretty close approximation. Fortunately, League of Evil isn't nearly as taxing as Super Meat Boy and it does feel original enough to warn off any "ripoff" claims. I also like the theme and setting much better in League than in Meat.
You control a cyborg agent that can run, jump, grind on walls, double jump, punch, and do a flying kick. Your mission is to reach the evil scientist on each level and punch or kick him into oblivion. There are also optional goals that increase the difficulty of the game by way of hard-to-get briefcases and stars keyed to your completion time.
The level design isn't nearly as elaborate as in SMB, which is fine given the limitation of IOS gaming. Controls are quite well done, kept simple and effective even when they're not 100% accurate. Death is very frequent at the hands of spikes, spinning hammers, enemy soldiers, and so forth but the levels are bite-sized and failure only sets you back a couple of seconds. Die, and then you go again until you beat the level.
League of Evil may be my favorite platform game to date in the App Store. It's streamlined, easy to get in and out of, and it keeps you coming back with those damn stars and briefcases. There are tons of levels and more have already been released so support is good. Can't beat it for a buck, that's for sure.
The Blocks Cometh
Halfbot's hotly anticipated (and shamelessly ripped off by another developer) The Blocks Cometh is a crazy concept for a platformer. Imagine if you were a guy trapped in the drop pit of a falling block puzzle game. Your goal is to stay alive as long as possible against the increasingly difficult rain of blocks and to ascend as high as possible. It's almost a vertical take on the endless running game, but with lots of wall-jumping and getting squished unexpectedly. The character has a gun to shoot blocks as well, since he can and will get trapped in pockets between them from time to time.
It's a tough game, but it's also addictive and rewarding. Once you break your high score, it becomes very high-stakes and tense. Good platforming skills and quick-thinking pay off, and like League of Evil it keeps the on-screen controls simple.
Speaking of League of Evil, there is some crossover with both games. The hero of League is an unlockable character here, and there are Blocks levels in his game. Both games share a similar look and feel, with some great chiptunes work and cool, modernized NES style graphics.
Puzzlevania
Puzzlevania was an instant download for me, even without the safety net of reviews or user opinions. It looked like and was more or less billed as a Super Puzzle Fighter-style falling blocks puzzle with a gothic horror theme- hence the descriptive name and the big monster heads that you're tasked with smashing. Unfortunately, the game got off to a rough start with some game-crashing bugs that rendered it unplayable. It's all better now, and it's a good, if not great, puzzler.
A Puzzle Quest-style adventure narrative frames the preceedings but it's hardly as detailed. You move from location to location and duel it out with various monsters by accomplishing certain quotas in the puzzle pit, employing a couple of different magic items to shift the balance. Just like Super Puzzle Fighter, combining blocks of the same color creates larger ones and then you use crash gems to knock them out, possibly triggering chain reactions. So there is strategy and some luck in the game, and making sure to hit the right marks before the pit fills can be as stressful as it is any other similar game. There are shops and "quests", so if you're like me and need there to be some context to the puzzle gameplay, it's definitely present. Great graphics and artwork give it a nice atmosphere.
All the kinks aren't worked out yet. The controls are super touchy, which often results in accidental drops. The bizarre dialogue attempts to be funny, but isn't. Unlike Super Puzzle Fighter, you're not actually competing against a rival so it feels solitary even though it's supposed to be a battle. And it still crashes and hangs up intermittently. It's fun when it's working and if you've got some patience to deal with an unpolished game, but be mindful that it's a little undercooked.