You may remember that I wasn't hugely impressed with the initial releases in the new mix-and-match miniatures skirmish line Dungeon Command from Wizards of the Coast. The absorbing tactics of the maneuver phase had to be counterbalanced against a dull and predictable combat mechanic. But there was potential there, the maddening hint of unfulfilled promise.
Stand-alone games don't get a second bite at the cherry. But this isn't a stand-alone game, it's a series of modular packs meant to combine together and increase your options. And so I thought I'd put the second set of releases, Tyranny of Goblins and Curse of Undeath through their paces to see if they pushed the envelope, did something more impressive with the creative ideas that underpinned the concept.
In short, they do. And it isn't an incremental leap either: almost everything I found wanting about those initial releases has been remedied to some extent in their newer siblings. To explain why, I need to break it down in more detail and that's the focus of the review. So if you want a higher level overview of how the game plays, you might want to check out my previous Dungeon Command review first.
The biggest single point change is the variety of order cards on offer. In the previous offerings most of these effects were combat-related, leading to tit-for-tat offensive and defensive play and a fast burn rate of cards. Here the potential effects are much wider, encompassing the management of existing cards in play, positioning and most importantly, movement, bolstering the most interesting part of the game with further variety.
Now when you attack you have no idea whether your opponent is sitting on a handful of defensive cards, or a bunch of effects he's hoarding for later use. The uncertainty adds a level of tension that was lacking in the base game, and sorely missed.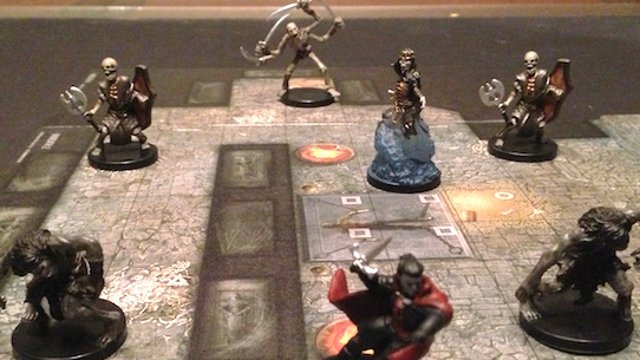 These new sets also feel a lot more cohesive and thematic. Goblins are supposed to be fast-moving, and flexible, making up for individual weakness with strength of numbers and that's just how they feel. There's even a "grovel" card. The whole thing just made me want to make mean, screechy goblin noises to accompany the actions of my little army of cringing servants. It's not such a strong effect with the Undead set but there's still a palpable sense that these are creatures that are summoned rather than merely deployed.
The improvements even extend to simple things. Presentation, for instance. Wizard of the Coast's infamous fast-warping cards are still in evidence, but the figures in these boxes are better-painted and more varied than their predecessors. They also make better expansions for the Adventure System games, with Curse of Undeath propping up Castle Ravenloft particularly well.
However, the real meat of the changes comes not from these sets as individual items but from the suddenly much extended range of combinations that can be obtained by mixing them with each other and the original modules. When there were just two sets, the mixing and matching of monsters and items seemed more like a theoretical possibility rather than a reality. Now it's very much worth the time and effort, with plenty of cards and monsters that synergise with those from previous sets. Occasionally the results can be distractingly daft, and the sets are more thematically cohesive left as they are.
With four different boxes to choose from you can now also choose to check out the multiplayer rules that were included from the first releases but unusable without access to duplicate sets. It works well with more than two, subject to all the usual provisos of multi-player like king-making and bash the leader which will either delight you or send you running back to take cover behind your stacks of worker placement clones. Four player perhaps runs a little long for what it is though.
Of these two new releases, I prefer Tyranny of Goblins. It's just got more interesting cards and characters as well as playing just like a scrawny bunch of mewling weaklings ought to. It also offers clearer and more obviously powerful effects around which you might want to group cards from other sets and build your own custom warband. Plus it's nice to be able to add some classic goblin fodder to my adventure system games.
One early review of these games I read suggested that if you didn't like the original sets, there was nothing here to change your mind. I heartily disagree. These feel like a big step up from the previous releases, and make Dungeon Command a more rounded, more exciting and more interesting game than it originally was.
Given the value inherent simply in having more cards and figures to mix, and playing multi-player, it seems bizarre Wizards didn't release all four together. But now they're all here, and while it doesn't suddenly catapult Dungeon Command into my top five from last year, I suddenly find myself awaiting the next series release, Blood of Gruumsh, with more than a trace of anticipation.