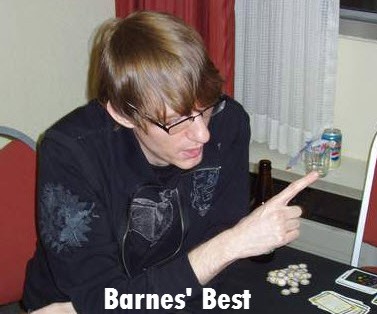 I'm doing my Barnes' Best Game of the Year commendation a little differently this year. I've been rolling over my short list time and time again over the past couple of weeks and trying to come up with a GOTY nominee that I can feel completely comfortable with selecting over other candidates. This year, there was a higher-than-usual number of not just really good but great games release, despite the influx of mediocre Kickstarter titles. Games that I think are going to be around for years to come. Games that I thought "there's nothing coming out this year that is going to beat this" when I played them. In all, I think it's been a great year for high quality, impactful, and innovative designs.
So this year, it's a Triple Crown.
That's right, I'm awarding three Game of the Year prizes because if I picked one of these over the others, I'd be spending the next few years wondering if I made the right choice. So this is the only way that I can do it and live without guilt. Call it a cop-out if you must, but I think every one of the three I've selected deserves to be called Game of the Year. And I've decided to retain a five game runners-up list, so that also allows me to acknowledge some of the great titles that would have just missed the cut. Note that some of these games are actually very late 2012 releases- given that some of these weren't widely available (or thoroughly played) until 2013, I think it's appropriate since they may have missed eligibility for last year's commendations.
So first, the shortlist. All of these games are outstanding, all of these are games that I'm looking forward to playing more in 2014 and beyond. As most folks around me know, I don't tend to keep most games I bring in, preferring to trade or sell to keep things fresh and flowing. But all of these are on the Forever Shelf, and I think that says a lot.
FIREFLY (Gale Force Nine, Aaron Dill, John Kovaleski, and Sean Sweigart)
Firefly should have been the year's biggest surprise since I wasn't really a fan of the show. But coming from the publisher and designers that made last year's biggest surprise in Spartacus (a GOTY shortlister itself), it turns out it was a shoe-in. Firefly is exactly what a licensed game should be, designed almost against a checklist of things that fans of the property would want to do. It's a classic pick-up-and-deliver game with a science fiction theme appropriately squared on characters rather than hardware, and the mixture of commerce and adventure is irresistible. I can't wait for the expansions.
Clash of Cultures (Z-Man Games, Christian Marcussen)
Christian Marcussen pretty much wrote a stop work order to everybody designing a pirate game a couple of years ago with Merchants and Marauders. Last year (really the very end of 2012), he did the same thing for the "Civ-lite" genre. Clash of Cultures is a masterpiece of economically expressing an epic scope, with traditional Civilization elements and some news like a brilliant method for depicting cross-cultural influence and propagation. It's a perfectly executed design that was almost enough to bump the venerable and storied Mare Nostrum off my shelf.
KEMET (Asmodee/Matagot, Jacques Bariot and Guillaume Montiage)
Kemet is one of the most aggressive Dudes on a Map games I've ever played, and it's one of the most innovative. By making the geography almost (but not quite) irrelevant and keeping proximities brutally intimate, the usual problems of the genre including "Cold Wars" and turtling are eliminated. Fun resource mechanics and a great upgrade scheme match up with an awesome fantasy Egypt setting to make Kemet one of the best games in its genre since Nexus Ops. It's a great follow-up to Matagot's Cyclades, and I love that there's an expansion that combines the two games.
LOVE LETTER (AEG, Seiji Kanai)
Love Letter is the smallest game I've ever awarded a GOTY nod to, and it's the first time a Japanese game has been listed. Hopefully it's not the last. A tiny deck and handful of wooden cubes create one of the most interesting and smartly designed "filler" class card games I've ever played. There's light deduction, some bluffing, and a surprising amount of intrigue for such a tiny game. It's shockingly minimal, but the way that the cards interact with each other tell a definite story. AEG released two editions of the game this year, one set in their proprietary Tempest game setting. I like the black box Kanai Factory limited edition better, if only because I prefer the more stylized Japanese illustrations.
NAVAJO WARS (GMT, Joel Toppen)
I've not yet formally reviewed Joel Toppen's Navajo Wars, that's forthcoming in the next couple of weeks. But there is no possible way that this beautiful, sensitive and actually quite moving game would not make this list of 2013's best games. Navajo Wars isn't so much a war game as it is the story of families struggling not just to survive, but also to continue their traditional way of life against outside aggression, interlopers, and influences. It's a single-player or partnership game because the designer didn't feel right about casting a player in opposition to the tribal subject. So he instead designed the best automated AI system I have ever seen in a board game. It's genius, and it's a system I guarantee you will see in other games in the future. This is the best game that GMT has produced in years, and that says a lot given the routine high quality of their products.
And now…I give you the Triple Crown, your Cracked LCD Games of the Year, Barnes' Best for 2013.
DUEL OF AGES II (Worldspanner, Brett Murrell)
One of the main things that keeps me coming back to Duel of Ages II- beyond the extreme variety of characters, equipment, and situations- is the sense that this game is much more in the spirit of playing cops and robbers or cowboys and Indians than it is in the spirit of playing the usual hobby board games. It's a game that invites you to play, constructing not only exciting strategic and tactical situations but also group narratives. It's a game with a lot of heart and soul, and those rare qualities are matched up with rules that reflect the designer's interests and more than a little influence from classic designs like Squad Leader and Gunslinger. The irony of naming DOAII one of my Games of the Year for 2013 is that when I played the game in its first incarnation ten years ago, I didn't like it. Maybe it wasn't the right time for me to encounter it, or maybe it's that this new edition corrected what I didn't care for. Both way, DOAII has become one of my favorite games and I think it has what it takes to be a classic worth revisiting for years to come.
PATHFINDER (Paizo Publishing, Mike Selinker)
RPG publisher Paizo certainly made a grand entrance into the board gaming end of the business this year with the Pathfinder Adventure Card Game. Designed by Mike Selinker, Pathfinder pretty much has anything you could want in an RPG-style card game and then some. Essentially, it's an extended variation on the Talisman model of flipping a card and rolling dice at it, but detailed characters with a full character's sheet worth of statistics and persistency between scenarios- which means actual leveling up and ability development- give this relatively simple game a lot more depth and longevity. It's also truly cooperative (and soloable) with meaningful differences and codependences between character classes. Additionally, I like the serial release of new modules that tell an overarching story. I think Pathfinder was my most played game of 2013, and when my copy of the new adventure cards shows up this week I'll be getting a head start on 2014.
ROBINSON CRUSOE (Z-Man Games, Ignacy Trzewiczek)
The surprising thing about Robinson Crusoe is that it is really a hardcore, really quite complex worker placement Eurogame. But it tells a much richer story than most Eurogames can muster thanks to a variety of survival and exploration scenarios that contextualize the mechanics and provide a very rich sense of detail and meaning. Robinson Crusoe never feels abstract, and the struggle for survival on an uncharted island often feels tangible as players try to budget resources to deal with weather, wild animals, disease, and other potentially disastrous events. Ignacy Trewcizk's design work is elaborate, always thrilling, and proves that Eurogame mechanics can support great narrative.
It's been a great year, hopefully 2014 will keep us spoiled with great new titles to play and enjoy. Happy new year!